Nxworries (Anderson .Paak X Knwledge) - Suede
I've been recently hit by some new music and when that happens I usually don't know where to start my article. Maybe I can by introducing the two artists ? Anderson .Paak is a singer/rapper/producer/drummer who recently blew up from collaborations with some of Hip-Hop's biggest names (Dr Dre, The Game).He released his first album Venice a year ago through OBE records. The effort was very versatile exploring many of Anderson .Paak's amazing skills (he has lots). He can go from the classy soul man to the classic R & B singer to even the agressive trap rapper (see "Drugs"). Meanwhile, producer Knxwledge is more of an underground type of guy. He has signed to Stones Throw records (Home of Madlib, Silk Rhodes,Homeboy Sandman) and has also already a debut album under his belt. He has worked with many great rappers such as the previously mentionned Homeboy Sandman, Rejjie Snow or Blu.
They seemed like an unlikely pairing at first but when I heard the song "Suede" I saw an obvious chemestry between the two. Knxwledge's dusty sampling matched perfectly .Paak's unbelievably funky singing. This song is an UFO to me,it got me feeling like it was recorded 50 years ago, but at the same time there's a very modern vibe to it. If this is a reflection of what has yet to come I can't wait for a Nxworries album ! I really believe in the making of an album with only one producer with rap albums especially at stones throw records (see Freddie Gibbs and MF Doom with Madlib at Stones Thow or other great pairings such as Blu & Exile or Jeremiah Jae with L'orange on different record companies).
Anyways, enjoy the record and be on the lookout for a new article !
Truly Yours
Blue Matter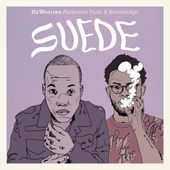 Nxworries - Anderson Paak & Knxwledge - Suede by Stones Throw Records
Anderson Paak and Knxlwledge are working together as NxWorries. "Suede" is their first single. More info: http://goo.gl/m6IqJj | http://andersonpaak.com | http://stonesthrow.com/knx
https://soundcloud.com/stonesthrow/nxworries-anderson-paak-knxwledge-suede
Partager cet article